Labels: #ff, #followfriday, campaign, education, empowerment, ff, follow, follow friday, friday, girls, human rights, i am malala, inspirational, malala, malala yousafzai, pakistan, women
·
Posted by

Jessica
at 01:00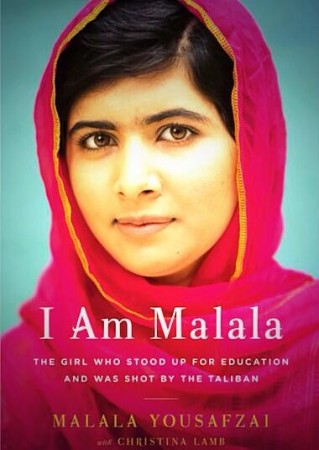 I recently read the biography of a young woman called Malala Yousafzai. She is 16, and is the most inspirational human rights campaigner I have ever seen.
Growing up in Pakistan, she frequently campaigned for and encouraged girls to stay in education - she did not see why someone's gender should dictate whether they went to school or not. And as a result of her campaigning, she was shot in the face by the Taliban on her way to school.
She was transferred to Queen Elizabeth Hospital in Birmingham, and luckily survived the ordeal. Her campaign grew, and she went on to speak at the United Nations to call for worldwide access to education on her 16th birthday.
Labels: #boobsarentnews, #nomorepage3, boobs, boobs aren't news, campaign, feminism, feminist, gender, gender roles, girl, girls, no more page 3, objectification, role models, the sun, women
·
Posted by

Jessica
at 01:00

This is a campaign founded by Lucy-Anne Holmes in 2012. This campaign asks the editor of The Sun newspaper, David Dinsmore, to "take bare boobs out of The Sun," because, let's be honest - BOOBS AREN'T NEWS. The campaign argues that there is a time and a place for nudity, and in a family newspaper is not appropriate.
I 100% support this campaign - however I do agree with criticism that objectifying women is never OK, and if it's not in a newspaper then it will be on the internet, and may be considerably worse. Having said that, I think the No More Page 3 campaign is a brilliant first step in reducing objectification of women, and have signed it and promoted it on my personal social media accounts.
So far, the petition has received nearly 189,000 signitures; you can add yours
here.
You can also find out more about the campaign on their
website,
facebook
and
twitter.
Labels: #followfriday, blog, empowerment, everyday sexism, feminism, feminist, follow, follow friday, friday, girls, heartbreaking, laura bates, men, objectification, sexism, stories, story, women
·
Posted by

Jessica
at 01:00

The Everyday Sexism Project is a blog started by a woman and feminist writer named Laura Bates in 2012. Growing tired of hearing how feminism is not needed in everyday life, she started the project to show just how much sexism still exists nowadays.
Women and men can anonymously submit their entries on the website, on twitter or via email, and tell their stories of sexism encountered in everyday life. Their stories are, unfortunately, easy to relate for a young woman in today's society, and show just how common and normalised sexism has become. Some of the stories are so heartbreaking, and really make me angry and passionate about changing the way we see women in society.
Check it out on their
website
and
twitter
. Laura has also just released a book about the project, which you can find on
Amazon
, and has also done a TED talk about her project, which you can watch below.